Free Online Baseball Sim Leagues
Welcome to pennantchase.com, where the philosophy is to offer easy, accessible, fun and free baseball simulation. This isn't fantasy baseball, but fans of fantasy baseball will surely dig it. Be the baseball manager of your own team in this great
online baseball sim game
!
Sign up and join an available league.
Real players, real historic stats determine the results of the games!
Pick your team's players, or rank players for the draft (no salary cap restrictions and no duplicate players on multiple teams!)
Wait for the league to fill and let the games begin.
Read daily box scores or watch game replays.
Juggle your roster, make trades, manage your squad as you fight for a title.
Play in a variety of leagues featuring every era of baseball history.
Truly dedicated users can even run a private league using simple and powerful commissioner tools. The developer of this site has over a decade experience running his league online, inspired by the great PC simulators of the past like MicroLeague and Earl Weaver. If you've paid to play in other online leagues, you'll be amazed at what is offered here for free. Obviously, we can't possibly offer everything the big corporate sites can, but we come pretty close, and actually exceed the competition in some areas. So jump in! For more details, check out the
features
and
FAQ
.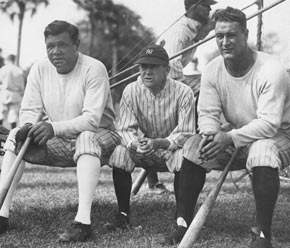 | | |
| --- | --- |
| Most Wins This Year | more... |
| Rreebe916 | 41,904 |
| chaaad | 38,918 |
| WorcWarr | 38,466 |
| Artinshki | 34,520 |
| trulaia | 33,532 |
This is by far the best fantasy baseball site I've ever been to. It took me weeks to find a good one. When I found pennantchase, I was hooked immediately. I would definitely recommend this site to any baseball lover.
gr33nappleboy
I know it must take a whole lot of time to put this together and keep it updated. Really is awesome and the fact that it is free is beyond comprehension. Thanks for making one soul happy for a few minutes each day!
biggcommish
I have been on this site for a few years now. There is truly nothing like it. Nothing remotely compares to this site. The community is phenomenal. The site is run extremely smoothly and well. Best site for avid baseball lovers.
Pv3rdbase15
This is probably the best baseball sim site that I have seen. It is more user friendly & allows more user interaction than SIMDYNASTY or CSFBL. I congratulate you, sir.
nsj16
Thanks man, you've got a great site here. It gives my father and I another thing to enjoy together. Very cool of you to offer it up for free.
smittyjones
Love the site very much!! You have created a daily habit that takes me away for an hour or so, from the business and worries of life!! Keep up the great work!!
ranger
Thank you so much for all your hard work in putting this together and keeping it running! This is SO much better than fantasy baseball! The memories it brings back are priceless! How could anyone not love it?
gashousegang34
This is my favorite website. Wow, what a great job you have done. This site has a great community and it is the best, most realistic online baseball simulation game out there. Plus I'm thankful it's free!
habsco
A friend of mine invited me, and my first thought was, "This is gonna be boring!" Well, I'm hooked! I find myself counting down the clock as the next game gets closer. If you like baseball, and you're looking for a good sim, this is it!
Zeedood
Great site. This is truly the best simulation baseball site on the web, ever. Continue the good work!
wyldman95
I think you did a great job on this website... thanks for a great online baseball game.

bones13
I can't get enough of Pennant Chase. Best Baseball Simulation League game out there. Keep up the good work!
redsox10
Features of PennantChase.com
Most users play in automated public leagues. These leagues are easy to jump in and play.
Pick from a variety of leagues, featuring pre-1900 to modern stats
Enjoy two to three sims a day, with the ability for users to sim games every 8 hours
162-game schedules and wild-card playoffs
Modify team name, ballpark and logo
Offer, approve, reject trades
View Box scores and replays of every game
Track team power rankings
View MVP & Cy Young candidates throughout season
Adjust on-field strategy
Modify lineups, rotation and bullpen
Drop players and sign free agents
Sign keepers to contract for subsequent seasons
Ten seasons of historic stats kept for every league!
The really dedicated users can start private leagues with friends and use tools to customize the league in many ways:
Structure your league with as many teams as you want in up to 8 different divisions
Create, delete, modify players as you wish
Choose a batch of players to start with or build from scratch
Import any player or team from the history of baseball
Create fictional rookie players with the click of a button
Utilize your league's draft room at any time – before, during, or after a season
Create your own schedule
Simulate games at your own pace, any time, day or night
Archive up to 10 seasons and award post-season trophies
Automate player aging and retiring between season
Create team budgets and player contracts
Most importantly, the site is simple and easy to use. The simulations are based off real, tangible stats – not arbitrary ratings. And the stats are basic so that the sim results make sense. We're not going waste our time with nonsense like, "How well does a batter hit on turf during the day against lefties?" If you're looking for that level of stat geekiness, you won't find it here. The philosophy is to keep it simple and fun. Obviously, the more time you invest, the better you will become at building a winning team. But you don't necessarily have to spend hours and hours to be successful. And remember, it's about having some fun. In the end, plenty of "luck" is involved, so don't take it too seriously!
Limitations
Admittedly, there are some limitations, and the biggest one right now is that this site only supports the DH. As you can imagine, there is a lot of complex logic involved in extending the simulator to support pitcher batting, and if I don't have time to do it right, I don't want to do it. The game is still fun and rewarding, even if you aren't a huge fan of the DH. But this is something I hope to add in the future.
For even more info, check out the FAQ.